General Information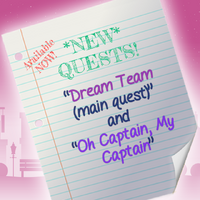 Dream Team is a main story quest in High School Story. You and your classmates are heading home from Washington, D.C., after the Young Leaders Conference. One evening, while the MC's with friends, Koh shows up with an idea of a Dodgeball game. Pick your own dream team and compete against friends' teams, especially the formidable rebels. Who is gonna win? Keep playing to find out!

Quest
Part
Requirements
Duration
Rewards
1
Koh
14 hours
30 000 coins
1,300 XP
2
Autumn
Nishan
Ezra
16 hours
32 000 coins
1,300 XP
3
Wes
Julian
18 hours
31 000 coins
1,300 XP
4
Spend 2,000 books
None
32 000 coins
1,300 XP
5
Koh
8+ Rebel
6+ Rebel
21 hours
39 000 coins
1,300 XP
6
Katherine
Mia
Sakura
18 hours
37 000 coins
1,300 XP
Trivia
Dream Team is the second story arc for Level 28.
Ad blocker interference detected!
Wikia is a free-to-use site that makes money from advertising. We have a modified experience for viewers using ad blockers

Wikia is not accessible if you've made further modifications. Remove the custom ad blocker rule(s) and the page will load as expected.