General Information
Edit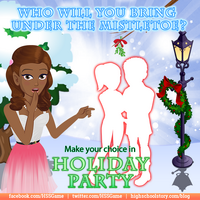 Holiday Party is a seasonal time-sensitive quest in High School Story. The main objective is to help Payton throw a holiday party for your school, as well as the kids from the Little Buddy program she's a part of.

Part
Requirements
Duration
Rewards
1
Have a Sassy Santa Outfit
None
1000 books
2
The MC
A Classmate
6 hours
3
Julian
A Nerd Except the MC
A Student Gov
8 hours
4
The MC
A Classmate
10 hours
5
The MC
A Guy Classmate wearing a Holiday Tidings Outfit
12 hours
6
The MC
A Classmate Except Payton
A Classmate Except Payton
9 hours
7
A Classmate wearing a Sassy Santa Outfit
A Classmate Except Payton
13 hours
8
Payton
15 hours
Holiday Party was re-released on 7th December 2016
Sassy Santa Outfit is available in the store for female classmates and it costs 500 rings
Ad blocker interference detected!
Wikia is a free-to-use site that makes money from advertising. We have a modified experience for viewers using ad blockers

Wikia is not accessible if you've made further modifications. Remove the custom ad blocker rule(s) and the page will load as expected.