General Information
Edit
Nishan the Jock is a time sensitive quest in High School Story. In order to fulfill the athletic requirement for college applications, Nishan decides to create a new sport.
This quest expires in 5 days and offers a 'free preview' which must be viewed in order to proceed to the quest itself.
Part
Requirements
Duration
Rewards
1
Free Preview!
Spend 250 rings
None
12,000 coins
2
The MC
6 hours
15,000 coins
3*
Spend 120,000 coins
None
200 books
4
Mia
7 hours
16,000 coins
5
Julian
A Jock Except the MC
A Jock Except the MC
8 hours
18,000 coins
6
Sakura
5 hours
300 books
7
Play Nishballs
None
18,000 coins
8
Julian
Nishan
8 hours
19,000 coins
In Part 3, answer 'throw the ball' for a bonus 100 coins
Nishan the Jock was re-released on the 6th September 2016. Originally, the requirement for Part 1 was 200,000 coins, with the new release the requirement was changed to 250 rings.
Announcement
Edit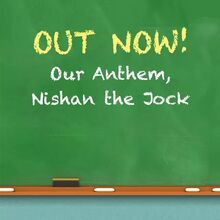 Pixelberry's announcement when they released Nishan the Jock alongside Our Anthem on the 5th day of September 2016.
Ad blocker interference detected!
Wikia is a free-to-use site that makes money from advertising. We have a modified experience for viewers using ad blockers

Wikia is not accessible if you've made further modifications. Remove the custom ad blocker rule(s) and the page will load as expected.