General Information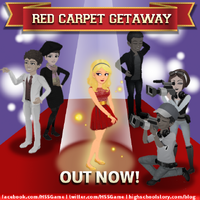 Red Carpet Getaway is a time sensitive quest in High School Story. Payton has won an all-expense paid trip to Hollywood to attend the red carpet premiere of Dean Marcus' new film and you (as well as Autumn and Julian) have been invited! Not only will you be flying first class, you will be pampered like celebrities throughout the whole trip. However, a limo ride and 5-star hotel's penthouse suite aren't enough to distract Payton from the real reason she's here. Will Payton be able to meet her long-time favourite actor?

Quest
Part
Requirements
Duration
Rewards
1
Spend 25 rings
Have 1 Ruby Red Sparkle Dress
None
1,000 books
2
The MC
Payton
Julian
1 hour
6,000 coins
3
Payton
2 hours
6,500 coins
4
A Classmate
4 hours
7,000 coins
5
Julian
6 hours
100 books
6
The MC
5 hours
7,500 coins
7
The MC
Payton
Julian
6 hours
8,000 coins
8
The MC
Payton
12 hours
50 rings
200 books
Trivia
Ad blocker interference detected!
Wikia is a free-to-use site that makes money from advertising. We have a modified experience for viewers using ad blockers

Wikia is not accessible if you've made further modifications. Remove the custom ad blocker rule(s) and the page will load as expected.