General Information
Edit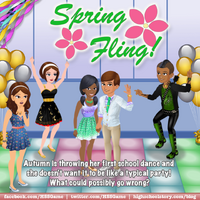 "Throw the ultimate spring fling in this classic HSS quest!"
Spring Fling is a time-sensitive seasonal quest in High School Story. Payton wants to host the Spring Fling Dance (a celebration of spring) but Autumn asks her if she could host it instead. She decides her party's motto will be "Spring Fling: Try A New Thing!" where everything will break the status quo. Though reluctant, Payton agrees to let Autumn plan it while she tries her hardest not to interfere. Will things go the way Autumn hopes or will everything turn out the way Payton predicts?

Part
Requirements
Duration
Rewards
1
Free Preview!

Spend 100 rings

None
1,000 books
2
A Guy Nerd
A Girl Nerd
4 hours
4,000 coins
3
Have 6 Flower Boxes
None
50 books
4
A Guy Jock
A Girl Jock
6 hours
6,000 coins
5
A Wallflower
A Gamer
A Cheerleader
8 hours
8,000 coins
6
Change a Nerd's Outfit
Change a Prep's Outfit
Change a Jock's Outfit
None
90 books
7
A Student Gov
A Jock Except the MC
A Nerd Except the MC
7 hours
10,000 coins
8
The MC
A Classmate
9 hours
12,000 coins
9

A Guy Classmate
A Girl Classmate

10 hours
250 book
Spring Fling was released on the 4th April 2016 and re-released on the 19th April 2017.
Ad blocker interference detected!
Wikia is a free-to-use site that makes money from advertising. We have a modified experience for viewers using ad blockers

Wikia is not accessible if you've made further modifications. Remove the custom ad blocker rule(s) and the page will load as expected.