General Information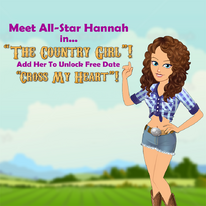 The Country Girl is an All-Star Quest in High School Story. It introduces the new All-Star Hannah.

Quest
Part
Requirements
Duration
Rewards
1
Payton
Mia
2 hours
1,500 coins
2
Have 20 Unlocked Plots
None
2,000 coins
3*
Look out!
None
2,500 coins
4*
Have Hannah
None
350 books
Trivia
In Part 3, choose Get out of the way! to receive 500 coins.
The Country Girl was released on the 1st February 2016.
If you don't already have Hannah then Part 4 is time-sensitive, expiring after 3 days.
Please note that even if this quest expires, Hannah will still be available for purchase from the Store. Making the purchase beforehand means you'll receive the reward from Part 4 of the quest.
(Next Story Quest) TBA >
Ad blocker interference detected!
Wikia is a free-to-use site that makes money from advertising. We have a modified experience for viewers using ad blockers

Wikia is not accessible if you've made further modifications. Remove the custom ad blocker rule(s) and the page will load as expected.