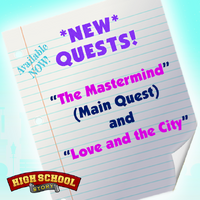 The Mastermind is a Main Story Quest in High School Story. It is unlocked at Level 30, following the completion of The Secret Menu.
Story
Your investigation has led you to believe that Jack Carver is the key to catching the person that stored illegal fireworks in your float. But be careful, someone dangerous, someone who holds a grudge against your school, is playing you all like puppets and trying to find this puppet master could cost you.
Spoilers
See here for spoilers.

Quest
Part
Requirements
Duration
Rewards
1
Level 5+ Koh
13 hours
20,000 coins
1300 XP
2
Level 6+ Wes
14 hours
24,000 coins
1300 XP
3
Buy Any Outfit
Change The MC's Outfit
None
300 books
1300 XP
4
Have 40 Unlocked Plots
None
30,000 coins
1300 XP
5
The MC
12 hours
32,000 coins
1300 XP
6
Level 4+ Katherine
Level 7+ Payton
15 hours
29,000 coins
1300 XP
7
Level 7+ Julian
16 hours
34,000 coins
1300 XP
Trivia
The Mastermind was released on the 12th May 2015.
Ad blocker interference detected!
Wikia is a free-to-use site that makes money from advertising. We have a modified experience for viewers using ad blockers

Wikia is not accessible if you've made further modifications. Remove the custom ad blocker rule(s) and the page will load as expected.