General Information
Edit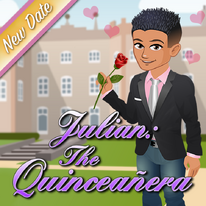 The Quinceanera is a Date Quest in High School Story. It is the third date in the Fantasy Photo Booth available with Julian. Julian takes the MC as his date to his sister Hope's fifteenth birthday party.

Part
Requirements
Duration
Rewards
1
Free Preview!
Spend 175 Rings
None
500 books
2
The MC wearing a Handsome Heartbreaker or a Lovely Lavender Outfit
2 hours
700 coins
3
6,000 Coins
None
100 books
4
Julian
6 hours
900 coins
5
Waltz!
250 Books
None
1000 coins
6
Julian
The MC
8 hours
1100 coins
Ad blocker interference detected!
Wikia is a free-to-use site that makes money from advertising. We have a modified experience for viewers using ad blockers

Wikia is not accessible if you've made further modifications. Remove the custom ad blocker rule(s) and the page will load as expected.