General Information
Edit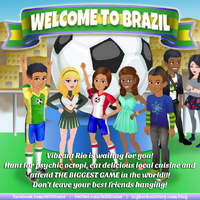 "Vibrant Rio is waiting for you! Hunt for psychic octopi, eat delicious local cuisine and attend THE BIGGEST GAME in the world!!! Don't leave your best friends hanging!"
Welcome to Brazil is a time-sensitive quest in High School Story. You have been invited on a trip to Brazil with your friends to watch the World Cup football finals. However, Julian and Mia end up arguing about every aspect of the trip. Will you and your friends be able to enjoy themselves when they can't compromise?

Part
Requirements
Duration
Rewards
1
Free Preview
Spend 250 rings
None
1,000 books
2
Spend 15 coins
Spend 150,000 coins
None
150 books
3
Julian
Mia
4 hours
20,000 coins
4
Ezra
Nishan
5 hours
10,000 coins
5
Catch Bus!
Spend 25,000 coins
None
200 books
6
Mia
8 hours
20,000 coins
7
Julian
7 hours
50 rings
100 books
Ad blocker interference detected!
Wikia is a free-to-use site that makes money from advertising. We have a modified experience for viewers using ad blockers

Wikia is not accessible if you've made further modifications. Remove the custom ad blocker rule(s) and the page will load as expected.