General Information
Edit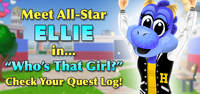 Who's That Girl is an All-Star Quest in High School Story. It introduces the new All-Star Ellie.

Part
Requirements
Duration
Rewards
1
Julian
1 hour
400 coins
2
Payton
2 hours
450 coins
3
Autumn
1 hour 30 minutes
100 books
4
Pool Party!
Formal Dance!
Dinner!
None
200 coins
5
Autumn
2 hours
300 coins
6
Complete a party
None
475 coins
7*
Have Ellie
None
500 coins
If you don't already have Ellie then Part 7 is time-sensitive, expiring after 7 days.
Please note that even if this quest expires, Ellie will still be available for purchase from the Store. Making the purchase beforehand means you'll receive the reward from Part 7 of the quest.
Who's That Girl was released on the 14th March 2016.
(Next Story Quest) Here To Cheer >
Ad blocker interference detected!
Wikia is a free-to-use site that makes money from advertising. We have a modified experience for viewers using ad blockers

Wikia is not accessible if you've made further modifications. Remove the custom ad blocker rule(s) and the page will load as expected.