General Information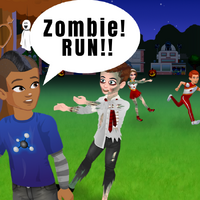 "Can you and your friends make it to the finish line unscathed? Which of your classmates will fall victim to the zombie horde? It's all up to YOU and the choices you make! Start the quest... and try to get the perfect ending!"
Zombie Run is a time-sensitive, seasonal quest in High School Story. You and your friends need to somehow make it to the end of a zombie apocalypse simulation as safely as possible. However, the zombies seem a little too real...
At the end of this quest, you can choose to play the quest Zombie Run: What If?, where you are presented with the same options, but this time you can make different choices in order to see how your the zombie simulation COULD have gone!

Quest
Part
Requirements
Duration
Rewards
1
Free Preview
Have a Walking Threads Outfit
None
500 books
2
A Classmate wearing a Walking Threads Outfit Except the MC
A Cheerleader
A Cheerleader
8 hours
6,000 coins
3
A Classmate wearing a Walking Threads Outfit Except the MC
An Actor
An Actor
10 hours
12,000 coins
4
A Classmate wearing a Walking Threads Outfit Except the MC
A Gamer
A Gamer
16 hours
8,000 coins
5
A Classmate wearing a Walking Threads Outfit Except the MC
A Wallflower
A Wallflower
14 hours
7,000 coins
6
A Classmate wearing a Walking Threads Outfit Except the MC
A Student Gov
A Student Gov
18 hours
11,000 coins
7
A Classmate wearing a Walking Threads Outfit Except the MC
A Dancer
A Dancer
15 hours
9,000 coins
8
Complete a Party with Nishan
None
12,000 coins
Trivia
Zombie Run is unlocked at level 9, after completing The Mean Girl's quest
The Walking Thread outfit is a female outfits, you can buy it from the costume part, it costs 600 rings